Gordie Bannerman's account of the actions of
sergeants Barkwell and Humble at Otterloo
Editor's Note:
This web page contains an abridged ver­sion of three typed pages kindly pro­vided to me by
Gor­die

Ban­ner­man

(-​),
a se­cond world war ve­teran of the 17th Field Regi­ment, Royal Cana­dian Artil­lery. In this ver­sion, two nar­ra­tives have been com­bined into one and ma­ter­ial on the Ital­ian cam­paign has been omit­ted. Ab­brev­ia­tions and ac­ro­nyms in the ori­ginal have been spel­led out. Dur­ing the bat­tle of Ot­ter­loo, Gor­die Ban­ner­man was the ser­geant-​ma­jor of Fox Troop of the 76th Bat­tery.
This story is about two gun sergeants that I had the privilege to serve with in the Royal Canadian Artillery during the second world war. The first was Sergeant Ronald "Pop" Barkwell (C26363) and the second was Sergeant Nelson Humble (L35212).
Pop
Barkwell
came from Haliburton, Ontario. I first met Pop when I was posted to Fox troop, 76th Battery, 17th Field Regiment, Royal Canadian Artillery as Fox Troop's sergeant-​major with the rank of warrant officer two. This troop had four gun sergeants: Nels Humble, Roy Johnson, Darcy Spencer, and Pop Barkwell. I had known the first three but this was my first meeting with Pop Barkwell. Pop had been transferred to our regiment from the holding unit and I cannot recall what regiment he had served with before. Needless to say it was our gain having Pop with our regiment and I will tell the story as I remember it. When I came to Fox troop as the sergeant-major I was 23 years old. Pop Barkwell was about 36 or 37. Nels Humble was about 38. Roy Johnson was 32 and Darcy Spencer, 22. I must say the difference in age was not a barrier with any of this group. I soon was to respect and admire Pop Barkwell.
It was in Holland that I learned what a brave man Pop Barkwell was, during the night of 16th/17th April 1945 at Otterloo. On this night the guns in our troop were attacked by German infantry. In the dark­ness, Pop kept his crew around him and, in the heat of the close quarter fighting, Pop was knocking the enemy down with his bare fists. The most distant dead German was about four feet from Pop's crew's slit trenches. When daylight came I along with Sergeant Spencer started to check on how our fellows had fared after last night. Pop was begrimed; his face was sweat stained and lined where droplets of sweat had run down. That great smile and cherubic face was grey and mighty tired looking. But not a man had left his post and he did not lose any one to death or wounds. Pop Barkwell should have been awarded the distinguished conduct meal or at least the military medal for his leadership and courage. But it did not happen and that is why I write about Pop Barkwell.
Pop remained with the regiment until the cessation of hostilities and after some time spent in the town of Winschoten was repatriated home. Our paths never crossed again.
This is what I know and remember about
Nelson

Humble

.
Nels Humble joined the army in 1940 and served with the 17th Field regiment from the time the regiment was formed until the cessation of hostilities. Nels Humble was employed by the Canadian Pacific Railway before the war and one of his crowning achievements was the hand painting of the royal crests and fine hand painting of the locomotive that carried the King and Queen across Canada in 1939. I first met Nels in 1940. For awhile Nels was a member of my gun crew where he was a bombardier. As time went by and promotions came, Nels was promoted to a gun sergeant.
Nels had many good points and one of them was singing. He along with Orme Payne, George Cooper, and Gordie Grant used to sing four-part harmony in the tiled washrooms of the London underground or where ever they had, or did not have, an audience. It was not his singing that caused me to write about him but to tell what a very brave man he was in the heat of close quarter fighting.
In Otterloo, Holland on the night of 16th/17th April 1945, Fox Troop of the 17th Field Regiment came under direct attack by German forces fleeing out of Apeldoorn to try to get to western Holland. Sergeant Humble's gun was the nearest gun to the road from Apeldoorn to Otterloo and the advancing Germans came upon it. Nels kept his cool and had all his crew in a very alert state. The battle opened with a mortar bomb landing around Nels and his crew. Then out of the darkness came a number of German infantry. Nels and his crew held their fire until the Germans were almost on top of them. The password was called out and there was no reply so Nels and his crew fired a few shots in and around the advancing Germans. Their shots grazed a couple of the Germans who screamed. This screaming was too much for Nels so he leaped out amongst the Germans and forced them to throw down their rifles and surrender to him. All this took place in the dark­ness. Nels and his crew held the Germans until Lieutenant Alex­ander Ross brought some troopers from the Governor General's Horse Guards to take the prisoners off our hands. During the rest of the long night, with Germans in front of us and behind us, Sergeant Nels Humble showed courage and leadership, keeping his crew with him and under good discipline. His gun crew sur­vived a very trau­matic night with none of them killed or wounded. They fought off any enemy who came close to them. It was a great stand. Sergeant Nelson Humble should have been recommended for the dis­tin­guished con­duct medal or, at least, the mili­tary medal but we were, sadly, not an army to hand out many medals.
Nelson Humble remained with the regiment until the cessation of hostilities and was repatriated home in 1945. Nels and I kept in touch for years after the war and spent many happy hours together at reunions until he passed away.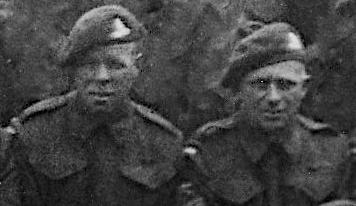 Sergeants Humble and Barkwell from a group
photograph taken in 1945